On Wednesday 1st February the Mindenhurst team and Surrey Wildlife Trust joined residents and staff at Lakeview Care Home to plant a spindle tree as part of The Queen's Green Canopy.
The Queen's Green Canopy was created during the Queen's Platinum Jubilee celebrations, with the aim of planting a million trees to create a living legacy in Her Majesty's name.
In support of the local environment at Deepcut, the Mindenhurst development has participated in this initiative by donating trees to local families, groups and businesses as a lasting tribute to Her Majesty's extraordinary service to her country and her people.
Lakeview Care Home residents and staff were joined by the Mindenhurst team's Operations Director and Surrey Wildlife Trust, who delivered a talk about our local wildlife and the importance of trees in urban environments.
Every new tree planted will bring benefits for people, wildlife, and the climate. The spindle tree donated to the care home will become a beautiful addition to the gardens.
In the spring and summer it will provide a welcome habitat for garden birds and – when it flowers – it will bring colour to the garden and a rich source of nectar and pollen for insects. Each autumn the tree will go through a striking transformation, when clusters of bright pink-and-orange berries hang from its twigs providing food for mice, birds, and even red foxes.
Charlie Norris, Operations Director at Skanska, said: "The Mindenhurst project team is delighted to join residents of Lakeview Care Home to plant a tree as part of The Queen's Green Canopy. This is one of many trees we are proudly donating to the community to support our local environment, so far over a million trees have been planted by people across the country, as a wonderful tribute to Her Majesty."
Inder Hanzra, General Manager at Lakeview Care Home, said: "We are delighted that the Mindenhurst team has very kindly donated the spindle tree to Lakeview for the enjoyment of the residents, their families and friends, and the Lakeview team as a living legacy in the name of Her Majesty Queen Elizabeth II".
Louise Ryan, Senior Ecologist at Surrey Wildlife Trust, said: "Surrey Wildlife Trust's mission is to ensure that reserves are connected through a 'Nature Recovery Network' of joined up spaces that are havens for wildlife. This means ensuring our towns, villages, businesses, farms, schools, homes, gardens and all the other elements that make up our living landscape are managed with nature in mind. This includes increasing the number of urban trees planted within urban developments, as they provide valuable habitat to a range of wildlife from mammals, birds, invertebrates, amphibians and reptiles. In addition, they provide important ecosystem services through carbon sequestration and flood management. They have also been proven to improve many peoples overall mental health and wellbeing. The Queen's Green Canopy will contribute significantly towards the number of urban trees to ensure the UK's wildlife is protected for the long term".
What else is on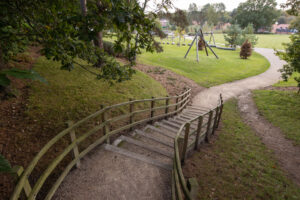 20/10/2023
Enjoy walking? Why not take part in the Mindenhurst Step Count Challenge!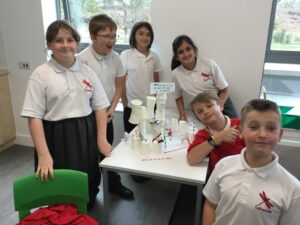 19/10/2023
The Mindenhurst team supports newest members of the community, Lakeside School