Current Activities
There is ongoing maintenance to the village green, central SANGs, SANGs Hut planting area and Mindenhurst Road.
The top soil, erosion matting and seed will be laid in the swales on Mindenhurst Road.
Frith Hill footpath remedial works will be commencing next week along with the Minorca Road footpath construction.

 
The footpaths in the remediation area that require re-building are due to commence imminently.
Reptile and bat surveys will be taking place.
A contractor will be assessing the damaged on the DBR rail bridge.
What else is on
Latest News
Skanska operatives mowed the grass at the Red Road roundabout on 10 June. ...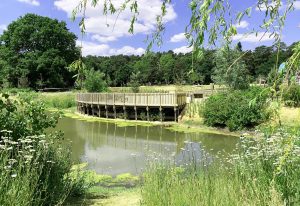 News
New outdoor spaces are opened for the community to enjoy