Construction Update - June 2021
1 – Ground remediation work will continue in the following areas where we will carry out the safe removal and disposal of contaminated material. Machinery will not be operating during weekends and will stick to normal working hours (08:00 to 17:00).
1a – The LAP (Local Area for Play) which is within the Central Suitable Alternative Natural Greenspace (SANG).
1b – The Green Swathe is located between the two current CALA homes development sites and extends from the Village Green down to the Frimley Lock path. Access to the site will be via the Frimley Lock path which means an increase in the number of construction vehicles using the path to gain access to the site.
1c – Southern SUDs
1d – Bovis Bank works will be contained within the boundary already erected. Residents may experience more vehicles using Cyprus Road when material is being removed.
2 – Trenching works to enable the installation of electrical cables, which will provide power to the local area, will continue along Blackdown Road from the Sergeants Mess access. We have listened to residents' concerns and the trench will now run down the road on the opposite side to the houses.
3 – Trenching works to enable installation of the new water main to Minorca Road will continue to the road in front of the cricket pitch and between Minorca Avenue to Deepcut Bridge Road. Temporary traffic lights will be in place along Minorca Avenue and on Deepcut Bridge Road. We anticipate works will be completed in June.
4 – Landscape maintenance works will be ongoing throughout the Central SANG (Suitable Alternative Natural Greenspace) and Village Green. We do not anticipate this causing disruption to residents.
5 – Additional trenching works will be required from the newly constructed substation along the grass verge on Cyprus Road. We will endeavour to maintain access, however there will likely be fewer parking spaces along this section of the road.
6 – Stone paving will be installed to mark the highway boundary at the intersections along Mindenhurst Road. Localised fencing will be erected, which may reduce access to some footpaths. Signage will be in place to notify residents of any diversions.
7 – Soft landscaping works to the park and eastern landfill areas (behind Portesbery School) are ongoing, including new footpath installations. Works will take place behind fencing and we do not anticipate additional traffic or disruption to residents.
What else is on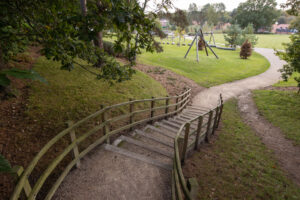 20/10/2023
Enjoy walking? Why not take part in the Mindenhurst Step Count Challenge!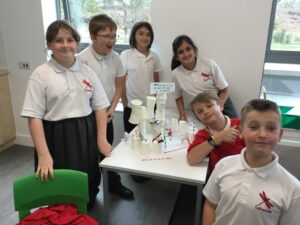 19/10/2023
The Mindenhurst team supports newest members of the community, Lakeside School